Parent Volunteer Campaign
"ALONE WE CAN DO SO LITTLE, TOGETHER WE CAN DO SO MUCH" – Helen Keller
Volunteering is a great way to get to know the school from a different and rewarding perspective, and our Parent Volunteer Campaign is in full swing! Our children are getting settled into their routines and the Crestwood Preparatory College Parents' Association is in the midst of their annual Parent Volunteer Campaign. This year Terry McNamara is the Volunteer Coordinator and her goal is to double the number of parent volunteers we had last year. There are many opportunities to volunteer and we are looking forward to reaching out to all the new families that have joined us this year.
Volunteer forms were sent out by mail before school started. If you have already sent yours in, thank you so very much! Someone will be reaching out to you over the next two weeks if they have not already.
There is always time to volunteer with the school, but September is usually the time where we really need parents to come forward.
The Used Uniform coordinator and the Mane Essentials (the school store) coordinators have already had sales and are on the look out for more volunteers to help out. It is a BUSY time for them right now. The Parent Social planning team still needs many parent volunteers in preparation for October 27th, and the Pizza Lunch organizer and Bake Sales organizer are in the process of getting ready for their programs to start which are just a few short weeks away. Both of these organizers are looking for help on the days that Pizza and Bake Sales are held.
We are looking for parents who can help with the communications and secretarial responsibilities of the PA. These are positions that are considered backup roles and would require a few hours of your time each month. Parent Grade Reps are required for each grade and the role consists of periodically sending out emails to a specific grade. With the evolving demographics of the school, it would be very much appreciated if we could have volunteers who are strong in another language and are willing to practise their English. (We are a wonderfully diverse community.)
Please consider volunteering. A link to the online Parent Volunteer Form can be found here https://docs.google.com/forms/d/e/1FAIpQLSfpOkxrHQxhPmAsWpGmujQFYZQTzIFTKRtdK0jEaO-NW42EPA/viewform?usp=send_form
Further volunteer descriptions can be found on Edsby in the Parent Community Group (Under the Groups Section located on the right-hand side of the webpage)
If you have any questions or ideas, by all means please contact Terry McNamara Volunteer Coordinator at terrymcnamara@rogers.com
Friends at Fabbrica Evening
In addition, we are thrilled to host our annual Friends at Fabbrica Evening. Please click on the image below for details, and to print of a PDF of the ticket form.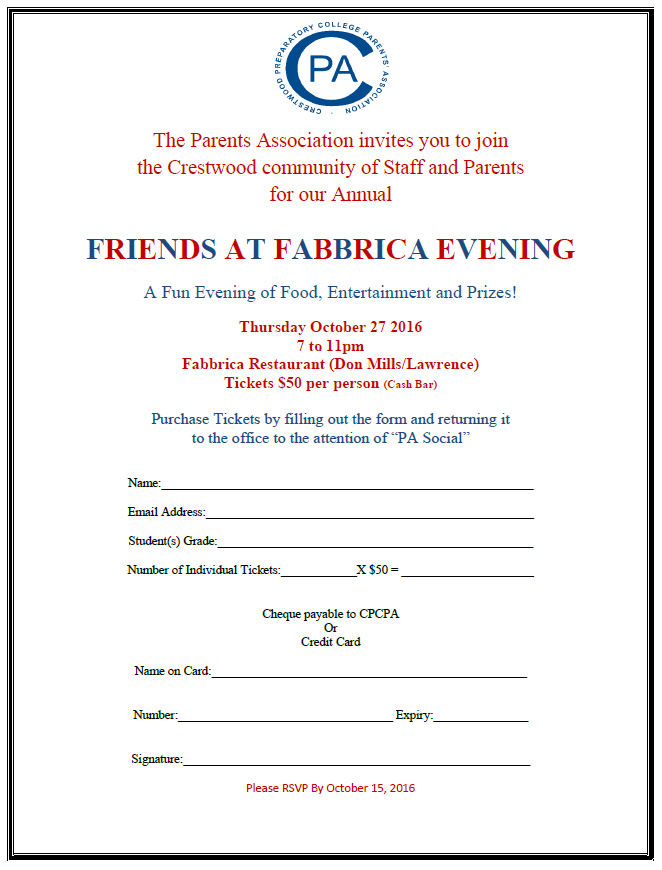 Nicole Gironda September 15th, 2016
Posted In: Crestwood News, Upper School